Jai Shri Ram! Lord Hanuman is among the most worshiped god in the world. He is a renouncer, a symbol of power and strength, and courage. If you daily see him and begin your day with his quotes or darshan, I am damn sure your day will be all fruitful and full of positive energy.
I know you are looking for Lord Hanuman Quotes, Images in the best Quality and printable wallpaper format, don't worry we have some uniquely crafted and specially made for you images and posters designed for you. You can download them in both png and pdf format. We will suggest you download in both formats.
The post consists of Hanuman Ji Images with quotes in Hindi and Sanskrit. If you are looking for Quotes in English then you can click here.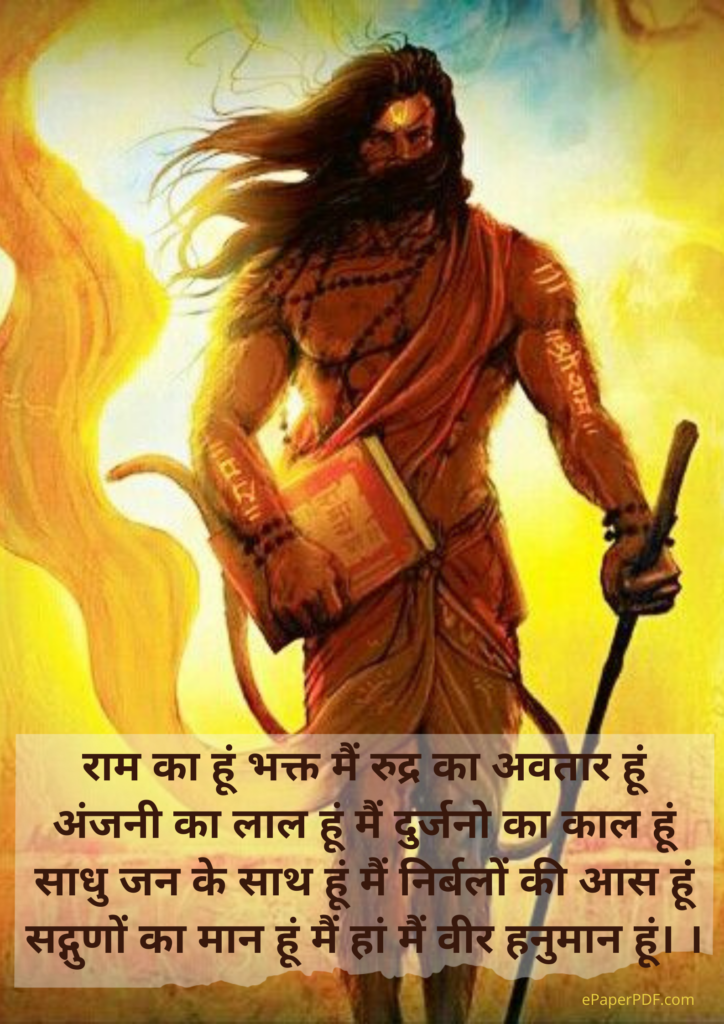 राम का हूं भक्त मैं रुद्र का अवतार हूं
अंजनी का लाल हूं मैं दुर्जनो का काल हूं
साधु जन के साथ हूं मैं निर्बलों की आस हूं
सद्गुणों का मान हूं मैं हां मैं वीर हनुमान हूं। ।
सियाराम सिंहासन विराजे , लक्ष्मण भरत शत्रुघ्न काजे 
अंजनी लाल महाबलशाली प्रभु चरण नतमस्तक साजे। ।
ALSO READ: Sanskrit Shlokas Wallpaper
राम दरबार में सियाराम सिंहासन के ऊपर विराजते हैं , भरत लक्ष्मण शत्रुघ्न जो उनके छोटे भाई हैं , वह सदैव उनके कार्य करने को आतुर रहते हैं। मां अंजनी के लाल , पवन पुत्र हनुमान जो महा बलशाली हैं वह सदैव प्रभु श्री राम के चरणों में नतमस्तक रहते हैं और उनके चरणों में अपना संसार देखते हैं।
संकट कटे मिटे सब पीरा , जो सुमिरे हनुमत बलबीरा
जय जय जय हनुमान गोसाई , कृपा करो गुरुदेव की नाई। ।
संकट और पीड़ा का निवारण केवल हनुमान के स्मरण मात्र से हो जाता है , क्योंकि हनुमान के भक्त जो होते हैं उनके आसपास किसी प्रकार का संकट नहीं आता। स्वयं संकट हनुमान भक्तों को देखते ही समाप्त हो जाता है। इसलिए हनुमान का नाम स्मरण करने से सभी संकट और पीड़ा दूर हो जाती है , बस ऐसे हनुमान जी की कृपा सदैव बनी रहे।
नासै रोग हरै सब पीरा। जपत निरंतर हनुमत बीर ।।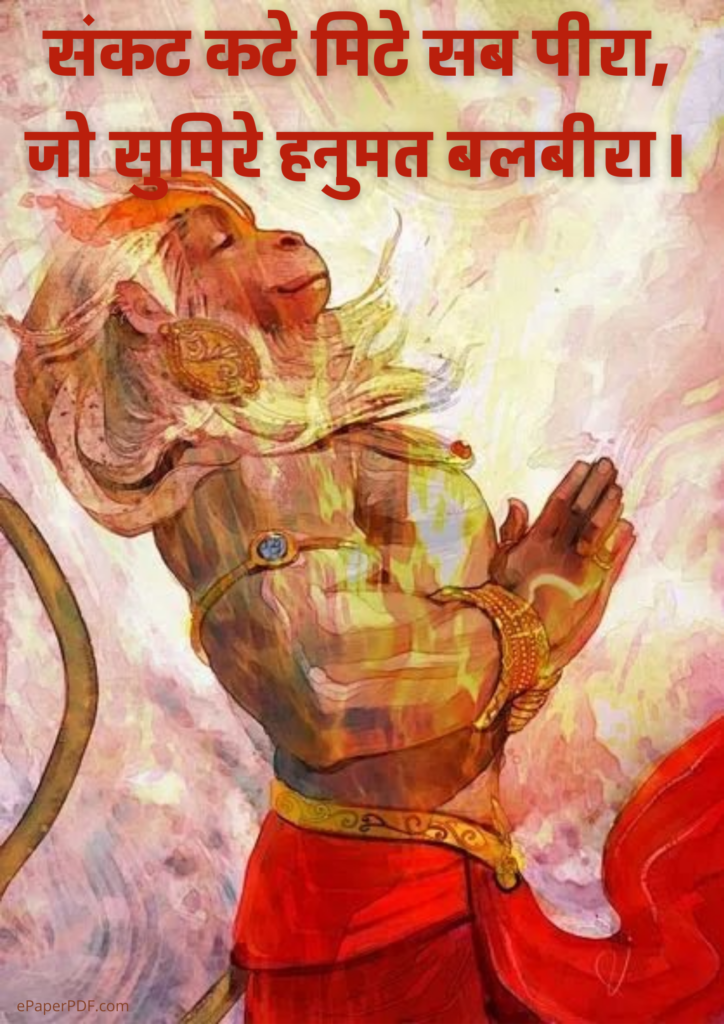 संकट कटे मिटे सब पीरा, जो सुमिरे हनुमत बलबीरा।
राम का हूं भक्त मैं रूद्र का अवतार हूं
अंजनी का लाल हूं मैं दुर्जनों का काल हूं
साधुजन के साथ हूं मैं निर्बलो की आस हूं
सद्गुणों का मान हूं मैं हां मैं वीर हनुमान हूं
दुनिया रचने वाले को भगवान कहते हैं,
संकट हरने वाले को हनुमान कहते हैं,
स्वर्ग में देवता भी उनका अभिनंदन करते हैं,
जो हर पल हनुमान जी का वंदन करते हैं।
करो कृपा मुझ पर ऐ हनुमान
जीवन-भर करूं मैं तुम्हे प्रणाम
जग में सब तेरे ही गुण गाते हैं
हरदम चरणों में तेरे शीश नवाते हैं
Also Read: Bhagavad Gita Quotes With Meaning in Hindi
A Brief About Sanskrit Quotes On Mind PDF:
You May Like: