Increasing the Age of marriage for Girls: If we talked about historical facts, the age of marriage for girls according to 1955 the Hindu Marriage Act is 18 Years. Here we provide Pdf of it.
According to the Christian marriage act, the age is when the girl attains puberty. Hence Indian thinking about marriages is different in each religion and it varies from person to person.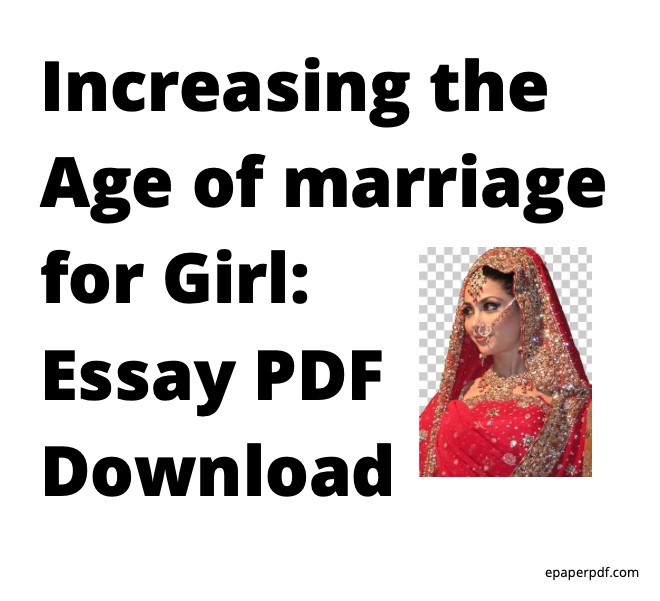 Brief Description of pdf:
Hence there is a question always raised about the Uniform civil code. Well the topic of UCC is different than what we are talking about in this post.
Early marriage is not dangerous for Girls but also for newborn babies too.
It affects the health and nutritious status. Hence adds to the age-old growing list of shunting and wasting.
The central government has formed a panel of 10 members. To revise the age of marriage for girls from 18 years to 21 years keeping in mind the health and nourishment factor.
Early marriage of girls might be one of the reasons for the malnourishment of children. But there are many factors that affect the overall development of girls' age.
How should Improve the health of girls?
We can improve the health and overall development of girls by adopting the following measures.
1) Education:
By investing in good quality and standard education, infrastructure both in rural and urban areas.
2) Educating the parents:
Awareness among the parents is also very important if parents are aware then they can understand the feelings and emotions of being a girl.
3) Sex Education:
Girls should be aware of the basic sex-related education, like knowing about sex-related diseases and proper nutrition and hygienic habits, etc., and habits during pregnancy and after pregnancy as well.
4) Access to health care:
Girls should have proper, low cost and easily available health facilities to ease their health hazards.
5) Dowry Acts and Related issues:
Girls who are getting married and under the pressure of their in-laws should be given adequate protection from domestic violence and, also should be empowered to get employment.
6) POCSO Act:
This should be implemented well in all stages.
So this deep-rooted problem needed help and support both from the government and society. If our society starts changing its attitude. And helps the government in implementing SDG goals then a better and healthier society for girls is not far away.